Vi er Team Helsingør! Støt vores kamp for børn og voksne med gigt - vi bliver glade for alle bidrag. Vores indsamling går i 2017 til:
- el-cykler til børn og unge med den smertefulde sygdom børnegigt
- finansiering af Gigtforeningens indsatsområder inden for forebyggelse og behandling af gigtsygdomme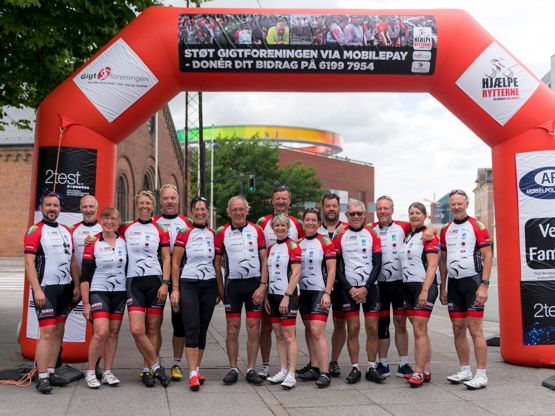 57,229 kr.


Collected

381% 15,000 kr.
Team Leader

Martin Lyngsted


Team Members
There aren't yet any team members in this team. That's no fun!
A team receives donations via the fundraisers that are team members, so if you want to participate, click here to join the team.
Pia Graversen

Donated

700 kr.

Mange tak for en hyggelig aften i Herning fra SAM og Pia. Det var rigtig dejligt at se de glade børn der fik overrakt en cykel.

Martin Lyngsted

registered

141 km

for 17 team members.

Torben Bruun

became a sponsor for

Preben Bæk Nielsen

Tanja Bendixen Kryger

registered

141 km

for 17 team members.

Esben Krogh Rasmussen

became a sponsor for

Lone Rasmussen

Hamlet International Solutions

became a sponsor for

Lone Bredo Schmidt

Martin Lyngsted

registered

202 km

for 16 team members.

Martin Lyngsted

registered

172 km

for 17 team members.

Martin Lyngsted

registered

152 km

for 17 team members.

ProSikring ApS

became a sponsor for

Arne Nielsson

Anonymous User

Donated

250 kr.

God tur og formålet er excellent. Tanten fra Kallerup

Bente Wiinberg

became a sponsor for

Pia Larsen

Liselotte Bæk Nielsen

became a sponsor for

Preben Bæk Nielsen

God tur rundt i Danmark - du er super sej far! GO GO - håber på medvind og godt vejr.

Edma Niclasen

became a sponsor for

Martin Lyngsted

Mormor til en pige med børnegikt

Martin Lyngsted

registered

162 km

for 17 team members.

Pernille Krogh

became a sponsor for

Carsten Brender

Pernille Rytter

Donated

250 kr.

God tur Lone. Godt projekt ❤️

Anonymous User

became a sponsor for

Martin Lyngsted

Torben Petersen

became a sponsor for

Lars Kirkegaard

Syntes godt om at hjælpe hvor jeg ved at pengene går direkte til nogen der har behov for støtte

Charlotte Munk

became a sponsor for

Lone Rasmussen

God tur, Lone! Du er bare så sej.

Lotte Lindberg

Donated

250 kr.

Hanne Helth

became a sponsor for

Irene Gärtner

Godt initiativ, Irene - god tur!

Ulf Madsen

became a sponsor for

Martin Lyngsted

Anne-Marie Schæffer

became a sponsor for

Lone Rasmussen