Vi er Team København! Støt vores kamp for børn og voksne med gigt - vi bliver glade for alle bidrag. Vores indsamling går i 2017 til:
- el-cykler til børn og unge med den smertefulde sygdom børnegigt
- finansiering af Gigtforeningens indsatsområder inden for forebyggelse og behandling af gigtsygdomme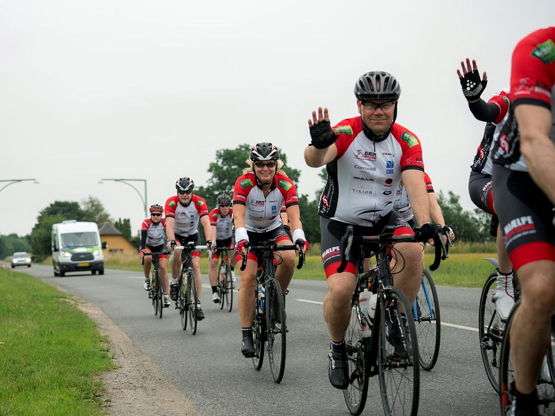 37,393 kr.


Collected

249% 15,000 kr.
Team Leader

Thomas Breum


Team Members
There aren't yet any team members in this team. That's no fun!
A team receives donations via the fundraisers that are team members, so if you want to participate, click here to join the team.
Jesper Fürst

Donated

250 kr.

Det har været fantastisk at følge dine opdateringer. Du er den vildeste inspiration!

Annette Klint Kofod

became a sponsor for

Brian Ytzen Juhl

Godt kørt Brian! Jeg vil gerne støtte det gode formål, som du så flot indsamler til.

Tina Christoffersen

Donated

145 kr.

Bare fordi de børn fortjener det...

Ryan Lauridsen

Donated

277 kr.

Nu ender det totalt på 1 kr pr. kilometer. Fed tur, og tak for støtten til alle! Mvh. Ryan

Thomas Breum

registered

202 km

for 14 team members.

Thomas Breum

registered

172 km

for 14 team members.

Kenneth Hansen

became a sponsor for

Ea Marie Holst

Ups, opdagede lidt for sent man kunne heppe og støtte, men du overlevede vist alligevel.

Tanja Bendixen Kryger

registered

141 km

for 14 team members.

Melgaard & Partners ApS

Donated

500 kr.

Thomas Breum

registered

151 km

for 14 team members.

Solveig Koustrup

became a sponsor for

Thomas Breum

Christian Bang

Donated

500 kr.

Du er for sej Anders

Anders Bank Melgaard:

Tusinde tak for donationen Bang. Jeg glæder mig til at vi snart skal ud og trille en tur 😁

Thomas Breum

registered

162 km

for 14 team members.

Henri Nielsen

Donated

500 kr.

Jeg støtter gerne en god sag når der ydes en aktiv indsats for den. (Spændende og se hvor meget der er tilbage af dig når du når hjem :-)) hilsen Far

Kristian Sletgaard

Donated

50 kr.

Thomas Breum:

Tak for støtten, Fai

Jesper Ullits Jensen

Donated

200 kr.

Thomas Breum:

Tak for støtten, Pelsesnud

Ap Møbelpolstring Aalborg

became a sponsor for

Peder Hansen

AP Møbelpolstring

became a sponsor for

Peder Hansen

Thomas Breum

Team Leader

Flot klaret forårets træning. Vi er klar til turen nu

Thomas Breum

registered

60 km

for 11 team members.

Inge Lise Melgaard

became a sponsor for

Anders Bank Melgaard

Anders er i år familiens repræsentant. Vi har herefter samlet deltaget 8 gange. Anders - tak for din støtte og rigtig god tur Danmark rundt!

Lasse Nielsen

became a sponsor for

Dorthe Carlsen

Med min donation vil jeg gerne støtte den gode sag samt ynderstrege at det er pissegodt gået og så håber jeg i mit stille sind at jeg samtidig køber aflad for sidst hvor du gav mig baghjul ;)

Motorik- og Naturdagplejen V/Eva Christoffersen

became a sponsor for

Ryan Lauridsen

Anders Bank Melgaard

became a sponsor for

Jørn Kjer

Tusind tak for hjælpen med transport til Helsingør og Næstved over de sidste måneder. Jeg glæder mig til at trampe Danmark rundt med dig og resten af holdet om lidt. :D